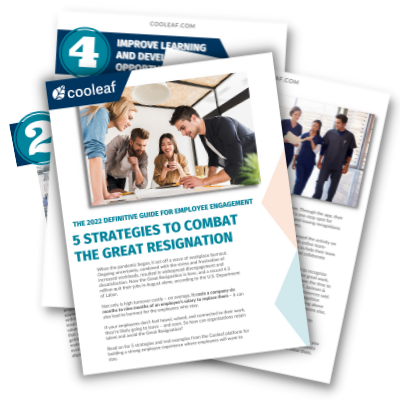 The 2022 Definitive Guide for Employee Engagement
5 Strategies to Combat the Great Resignation
FREE DOWNLOAD
It's time to revisit our approach to work.
With 95% workers seeking new opportunities in The Great Resignation and employee burnout on a constant high, workplace leaders are turning towards employee engagement strategies to support and retain key talent.
Employee engagement is no longer a nice-to-have but must be a holistic approach that sustainably builds culture, utilizes metrics and feedback, and supports your people.
What's Inside?
This free guide includes five effective tips to promote employee engagement and boost retention. You'll learn:
How to bring your company's core values and purpose to life
The key to an effective recognition program
How to maintain team connection in a remote environment
And examples from Cooleaf's experience working closely with organizations like Shipt, Freshly, and Synovus.
We're committed to your privacy. Cooleaf uses the information you provide to us to contact you about relevant content, products, and services. You may unsubscribe from these communications at any time.