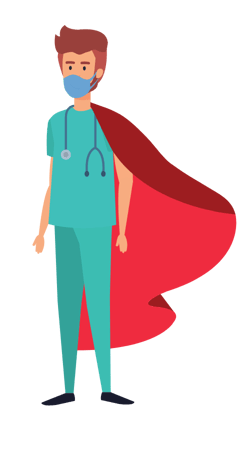 [On Demand] Webinar
Preventing Healthcare Burnout: Fostering Connection and Wellbeing in Healthcare Workplaces
---
🕐︎ 1 hour
What You'll Learn
The COVID-19 pandemic has put unprecedented strain on healthcare organizations, draining resources and challenging staff wellbeing. After a year of increased mental and physical exhaustion, many healthcare workers are now facing chronic distress and burnout.

Healthcare burnout isn't an individual problem — it's a workplace problem. Systematic and cultural change is needed to combat the burnout crisis in healthcare. In this webinar, Dr. Mark Greenawald, a professor at the Virginia Tech Carilion School of Medicine and a family and community medicine physician for Carilion Clinic, will share how healthcare leaders can deepen employee engagement, support employee wellbeing, and foster a culture of connection.
This webinar covers:
How to recognize the signs of chronic distress and burnout in your healthcare workers

Strategies to build processes of intentional connection among healthcare teams

3 ways to avoid burnout and improve team culture
ABOUT YOUR SPEAKER


Dr. Greenawald is professor and vice chair of family medicine and community medicine at the Virginia Tech Carilion School of Medicine (VTC) and presently serves as the vice chair for academic affairs and professional development and as residency program faculty for the Carilion Clinic Department of Family and Community Medicine. He also serves as the medical director for the Carilion Clinic Institute for Leadership Effectiveness (ILE) and is a leader of well-being initiatives for his clinical department as well as Carilion Clinic and VTC. In February 2020, he rolled out the PeerRx Med program, a peer support and professional growth program that has already impacted the personal and professional well-being of clinicians and health care teams around the world.